The Cones is a series of beautifully illustrated books written by Leeds author, Chris Madeley. The author brings traffic cones to life in her entertaining stories, aiming to educate children across a range of topics, including health and safety, conservation and sustainability, social values and moral and ethical principles of friendship and trust and careers.
The series focusses on traffic cone characters such as 'Conestance' and 'Conerad. These once inanimate objects are given personality and life and are free from the constraints of race, religion, or culture. Within the series, each of the Cones is portrayed as equal, therefore promoting equality and impartiality in social situations to our younger generations.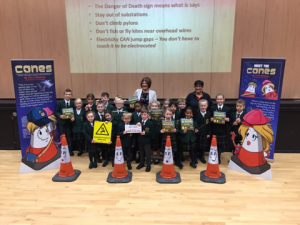 A key theme of the Cones stories is the importance of safety for children, both at home and in the outside world. Our society worldwide works together to collectively educate younger generations on health and safety.
Be it in school, from family and friends or generalised rules appropriate for various locations. Whoever you are, we all have responsibility to provide the relevant information to ensure people's safety in an easy and understandable way. The Cones books set out to do just this, by making safety and lots of different aspects of life around them as they grow up entertaining for children, while they also learn essential life skills that could possibly one day save their life or the life of another.
The Cones series has also worked with external companies to get these messages across. In doing this, it is ensured that the correct information and messages are put across for their audiences. Through these projects, it is also possible for companies and organisations worldwide to showcase their personal social values and presence.
For example, 'Cones Power and Nature' was produced in partnership and with support from Drax Power Group. This story focussed on how the company changes the way which energy is generated and can be used for a better future while also informing the public of their efforts to reduce their negative impact on the environment, surprisingly through their nature reserve.
31 October 2018. Pupils from Byron Primary School, Bradford, with author Chris Madeley and the new Cones book at Drax Power Station.

dav
Another example of this is 'Cones On The Rails' which is sponsored by Grand Central Railway. This addition to the educative series details the fun of rail travel to children, while also highlighting the possible dangers. In doing so, children become enthusiastic about having fun while staying safe. The book went on to win the UK Rail Industry Award on Passenger Safety.
Available here: https://amzn.to/2DQuY7Z