Plans for a new development in Castleford have been unveiled, compromising of a new shopping centre, 40-acre country park and a 10,000-seat stadium for the Castleford Tigers (Let's be honest, they need a new one)…
It boasts the biggest to open in the UK in the last 20 years! (Beat that Lancashire)
Scheduled for 2021, it's a stones throw from Leeds, just 10 minutes up the M62, situated opposite the popular Xscape leisure complex.
Big brands already signed up to the 600,000 Sq ft retails space include Marks & Spencer, Primark & Next.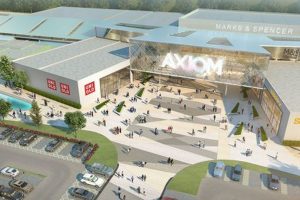 Quote their spokesman ""Axiom will be unique, combining a next-generation regional shopping centre with leisure, sports, culture and outdoor pursuits in a highly accessible destination.
"With direct access from the M62 motorway, it will be the UK's next generation retail, leisure and hospitality experience. "It will make a significant contribution to the surrounding area with substantial private investment into local infrastructure and community facilities, including the new 10,000 capacity Castleford Tigers community stadium."
It is expected to bring around 1,100 construction jobs during development.

Love Yorkshire retail, love Chocolate? Then check out York's Chocolate Story: