Who would have thought it would take so long for someone to create a celebration around Yorkshire's definitive food? Ben Vollans, the events production manager of The Ink Events Company, said in a press release, that he was surprised that this was the case:
"After attending other food festivals I wondered if there was one dedicated to the Yorkshire Pudding, to my surprise no one had ever done one! So I thought I would create one, I mean who doesn't like a Yorkshire Pudding?"
And on February 1st, 2020 this glaring omission was finally fixed with the arrival of the first festival dedicated to the Yorkshire Pudding, the aptly titled Yorkshire Pudding Festival. We at i-Yorkshire have been really looking forward to this event. So when the first rolled around I went over to the market to check out the festival.
The Festival
Hosted in the kitchen section of Leeds Kirkgate Market by The Ink Events Company the festival was made, according to Ben Vollans, to show the public, "creative ways to make and use the Yorkshire Pudding", with several stalls throughout the kitchen offering different takes on the Yorkshire pudding. Savory, sweet, gluten-free, vegan; traditional English, Indian and even Egyptian style were all available to try.
The festival also served as a celebration of Yorkshire enterprise (both local and nationwide) with food and drink stalls from businesses like Yorkshire Explorer gin, Kang's Punjabi Box, Masri – Egyptian Street Food and more.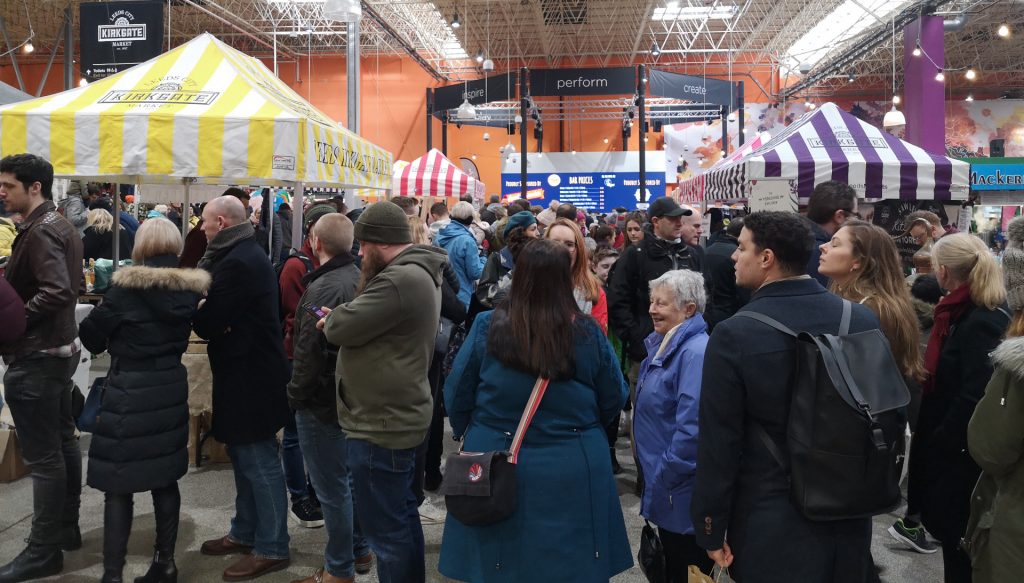 The Highlights
Undoubtedly the festival standouts were Yorkshire Pudding Pie; Northern Monk, and Aunt Bessie's (the two latter companies sponsored the event). Aunt Bessie's were offering free mini Yorkshire pudding and roast potato samples at their van outside the market. People were queuing around the corner to grab food from Yorkshire Pudding Pie. And Northern Monk unveiled their latest alcoholic creation, Reyt Pudding – Rhubarb Jam Pale Ale (in collaboration with Don't Mess With Yorkshire). Inspired by the tradition of serving leftover Yorkshire Puddings with Rhubarb Jam. The new flavor was a festival favorite and the drink of choice to enjoy with your meal.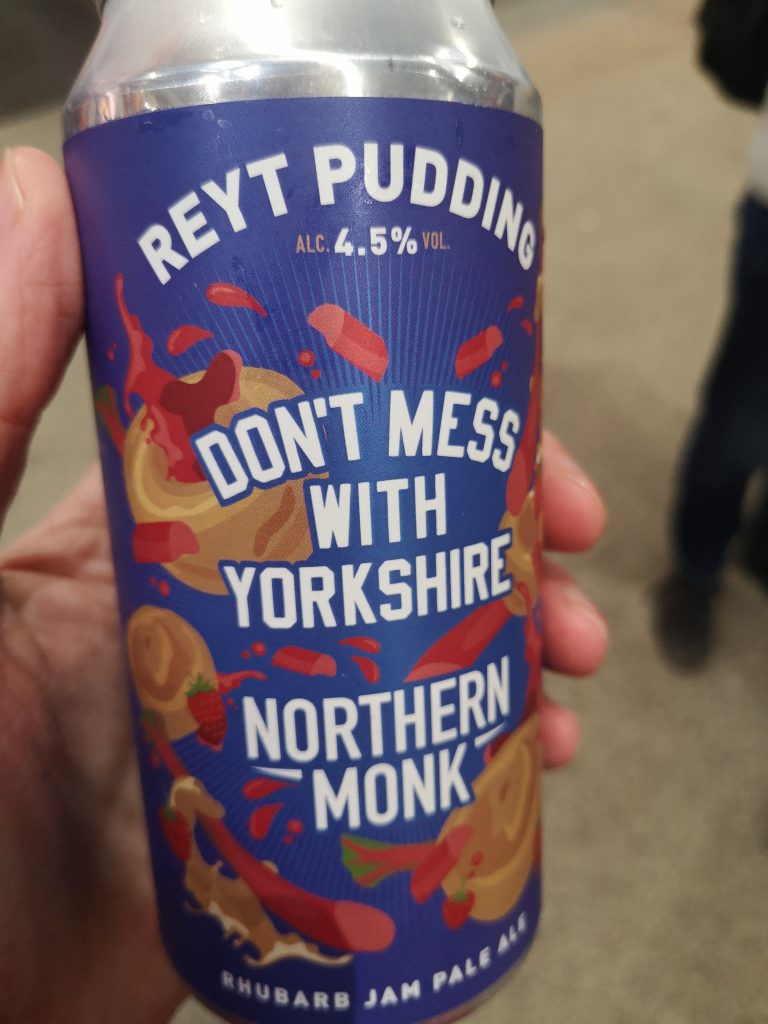 And while it was the Yorkshire pudding festival that was not all the event offered. Official merchandise (hoodies, t-shirts, tote bags, and aprons) was available to prove that you were at this historic festival. Buskers provided live music to entertain the public while they enjoyed their food. There was a children's corner that allowed the young ones to enjoy coloring in and face painting. And there was even a stall selling Yorkshire pudding flour to encourage people to go home and make their own puds.

The Lowlights
However, the event did have a lot of room for improvement. Several comments were made online about a lack of variety offered in terms of the flavors and styles of Yorkshire pud meals that were available. Which with only a handful of stalls focused on international cuisine, this criticism did ring true for those looking to try something different.
There were also issues such as long waiting times and a lack of sufficient change that posed a hindrance at some stalls.
Lastly, it was felt that there was a lack of diverse entertainment activities to keep the guests interested. Several people like Chloe Elizabeth said that other activities like cooking classes, more free tasters should have been added to get the guests involved with the spirit of the festival.
Conclusion
Overall while the festival did have its downsides, as a first attempt the Yorkshire Pudding Festival was definitely an entertaining experience. Despite a lack of true variety in the flavors and entertainment available at the festival, what was there provided a nice taste of Yorkshire talent; proved that the idea itself is able to pull in a large crowd. So let's hope that the positive elements of this first Yorkshire Pudding Festival are taken forward and hopefully the Yorkshire Pudding Festival 2021 will be even better.
#theresnowtasgoodasayorkshirepudd