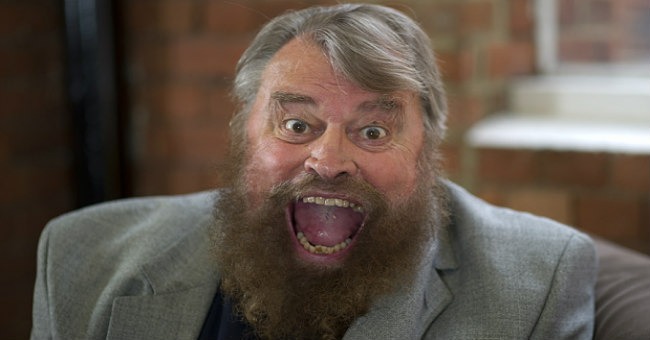 Early Life
Brian Blessed is a much-loved actor, whose unmistakable character and presence on both stage and screen have captivated audiences throughout the world.
Born in the mining community of Goldthorpe, South Yorkshire on 9th October 1936, Blessed managed to avoid the inevitable path of working down the local pit through his acting talent which he displayed in local school productions.
Tragedy struck his family when his father, William Blessed was involved in an industrial accident at the local colliery, which made him leave school early to undertake a series of jobs to help support his family, including a plasterer and an undertaker's assistant.
Early Career
Eventually Blessed managed to escape and pursue his acting dream at the Old Vic Theatre School in Bristol. Here he met another famous larger than life Yorkshire actor named Patrick Stewart.
Blessed's talents were soon recognised. One of his first roles quickly came in the hugely popular 1960s TV series, "Z Cars," as PC Fancy Smith. Other minor roles followed, including in The Avengers (1967-9) and Randall and Hopkirk (deceased) (1969.) He also appeared on stage at London's Phoenix Theatre in the play, "Incident at Vichy."
It was in the 1970s when Brian Blessed became a household name with several appearances in key TV series throughout this decade. One of which was in "I Claudius," as Augustus, alongside his old friend, Patrick Stewart and Derek Jacoboi.
His large stage presence, complete with unmistakable booming voice has made Blessed the ideal actor to be cast as both monarchs and villains.
Flash Gordon
In 1980 he was cast in the role of Prince Vultan in the cult classic, "Flash Gordon," which was an adaptation of the comics designed by Alex Raymond. His exuberant performance and memorable lines, such as, "Gordon's Alive?" and "Who wants to live forever?" made it a career-defining role and led to many more future castings of imposing figures. The rock band, Queen, who did the memorable soundtrack for Flash Gordon used the latter phrase as a title for their 1986 hit. Amazingly, according to Brian Blessed, he was a huge fan of the Flash Gordon comics growing up. He and his friends would act out scenes from these stories in the playground and a young Blessed would always play Prince Vultan, which was the very role he would undertake several years later.
A Variety of Roles in the 80s & 90s
In 1981 Blessed took to the stage once again when he joined the famous Andrew Lloyd Webber production, "Cats," as two of the felines, "Bustopher Jones and "Old Deuteronomy." He was also nominated for "Best Actor" at the Olivier Awards of 1981 for these roles.
His persona as a larger than life character also lent itself well to comedy acting. He starred as the fictitious King Richard IV in the first series of Blackadder, alongside Rowan Atkinson.
One of Blessed's more famous movie roles, after Flash, was in the 1991 blockbuster, Robin Hood Prince of Thieves (1991). In this film he played Lord Locksley, and starred alongside Kevin Costner, Morgan Freeman and Christian Slater.
Another obvious vehicle for Blessed's talents was in Shakesperian acting. He starred in several adaptations throughout the 80s and 90s. In 1989 he played the Duke of Exeter in Henry V and followed this with roles in "Much ado About Nothing (1993), Hamlet (1996) and Macbeth (1997). One of his most famous Shakesperian roles was in the film adaptation of King Lear (1999) where his attributes more than satisfied the lead role of the troubled and angry monarch.
2000 – Present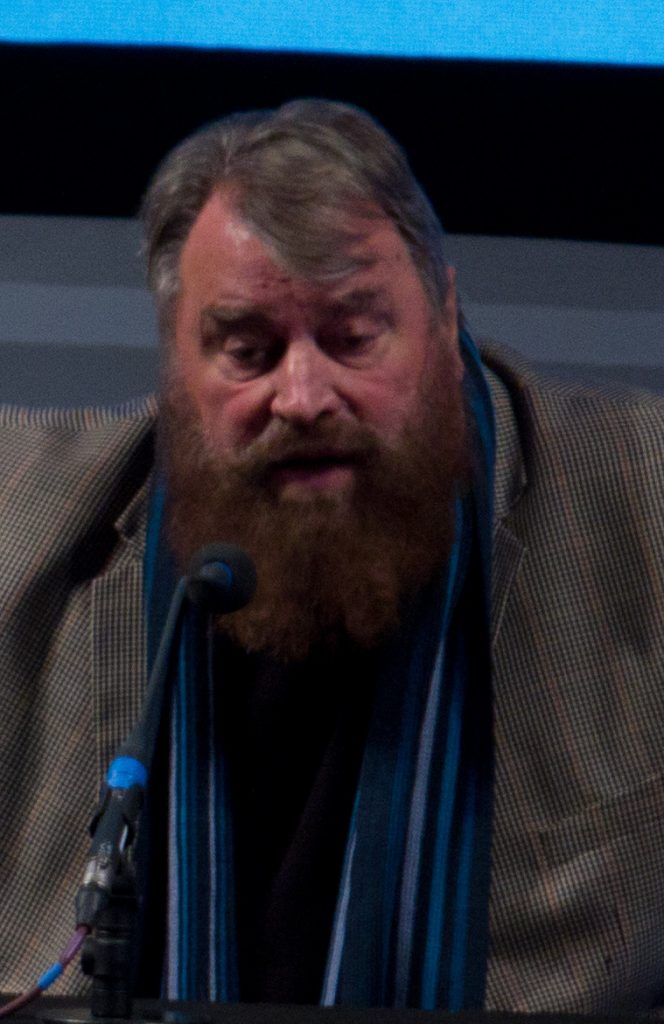 In his latter years, Brian Blessed has turned, like many actors of his generation, into voice acting and cameo roles. The 2000s saw him provide his now legendary voice to several productions, including "Star Wars, The Phantom Menace" (1999) as the voice of Rugor Noss and the BBC's "The Tamworth Two (2004)," which told the story of two runaway pigs from an abattoir in the Midlands town. He has also more recently lent his vocal talents to animation in the shape of "Grampy Rabbit,", plus the children's cartoon Peppa Pig, from 2006-10 and reignited his role as Prince Vultan during an episode of "Family Guy," in 2008. In 2013 he provided his voice for the children's cartoon, "Henry Hugglemonster," of which he voiced the aptly named Eduardo Enoromonster.
His narration has also been used in several video games, including the Invizimals franchise and another called, "War of The Roses," in 2012.
Picture: brian blessed hignfy.jpg
Credit: digitalspy.co.uk
Health Scare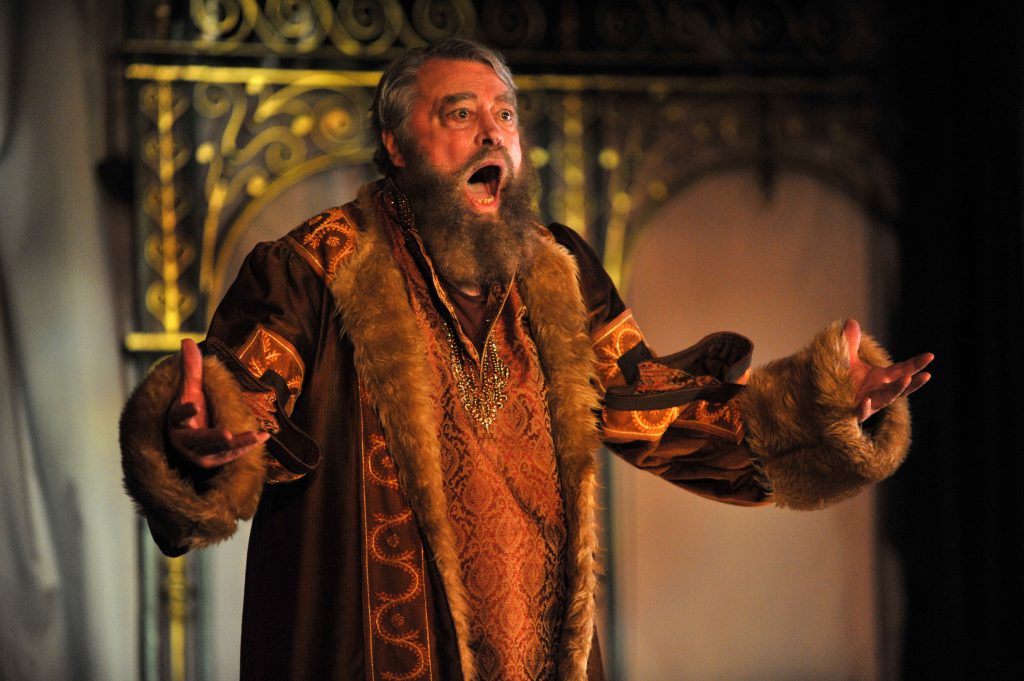 On 19th January 2015, Blessed was starring as King Lear at a production in Guildford, when just a few minutes into the performance he collapsed on stage. After a 20 minute break and an assessment from a surgeon he carried on and completed the show. He later had to withdraw from the rest of the play's run due to the health problems, which resulted in him having a pacemaker fitted.
Other Achievements
Off-stage Brian Blessed has also made some other notable achievements in exploration. He is currently the oldest man to have walked to the magnetic North Pole and has attempted to climb Mount Everest three times. In 2014 he appeared on the BBC series, "Who Do You Think You Are," which traced his family roots from London to the Lincolnshire town of Brigg. Two years later, Blessed was made an OBE for his services to the Arts and charity work. He also has honorary degrees at the Universities of Sheffield Hallam and Bradford. In 2020 he became involved with the development of a face mask which kills germs as people wear it, including Covid-19 and has become a huge advocate of wearing a face covering during the pandemic.
Brian Blessed is a much loved actor, whose large presence, booming voice and wonderful cameo appearances have lit up many a production on stage and screen.