Aviator, Amy Johnson soared to fame in the 1930s for her record-breaking exploits which made her the first woman to fly around the world.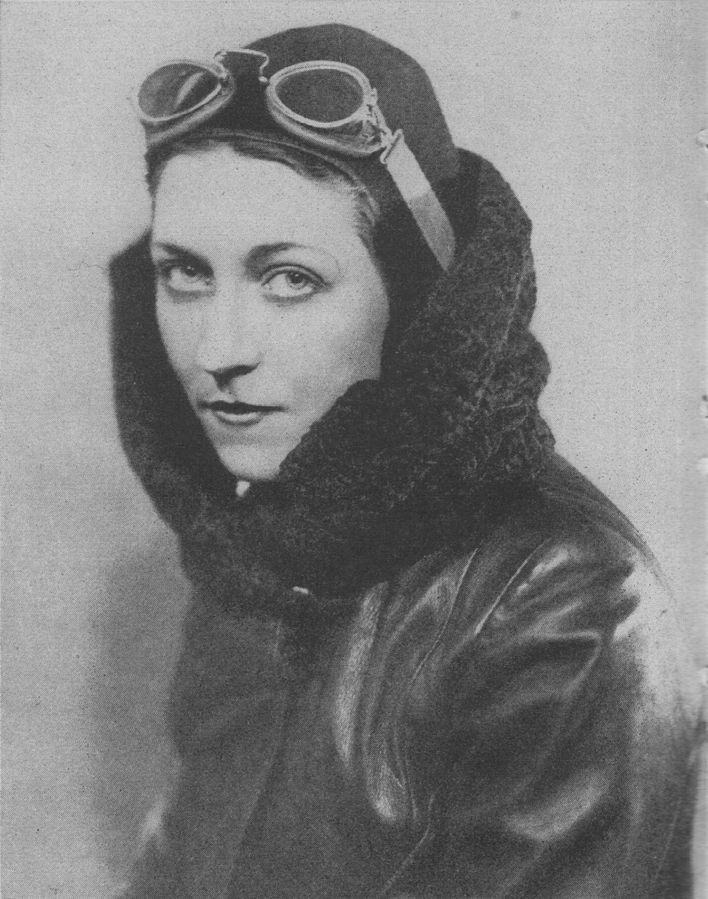 Early Life & Interest in Aviation
Amy Johnson was born in Hull on 1st July 1903. Her grandfather was a successful industrialist and a former Mayor of Hull in the 1860s, while her parents ran a successful fishing business.
She attended Sheffield University in 1923 where she completed a BA in Economics, before gaining employment as a secretary at a solicitor's office in London, after a brief return to her home city in 1925. During her time in the capital she first became interested in flying aircraft.
Johnson joined London Aeroplane club and started lessons under the tutelage of Captain Valentine Baker in 1928. After her first six lessons she wrote home to her family stating, "I have an immense belief in the future of flying." Her hobby soon became her life and she began studying for her pilot's license. Eventually in 1929 she left her secretarial job to become the first ever female mechanic and engineer. In a very male-dominated industry Johnson was determined to prove that women were just as capable of flying aircraft as her male colleagues.
Record Breaker
In 1930 Amy Johnson decided that she wanted to try and beat the record set by Queenslander, Bert Hinkler, who had flown from London to Darwin, Australia in sixteen days only two years earlier.
To achieve this she would need an aeroplane of her own. Her father managed to buy her one with a bit of help from philanthropist, Lord Wakefield. It was a Gipsy Moth model, which she called "Jason," after the family company's trademark.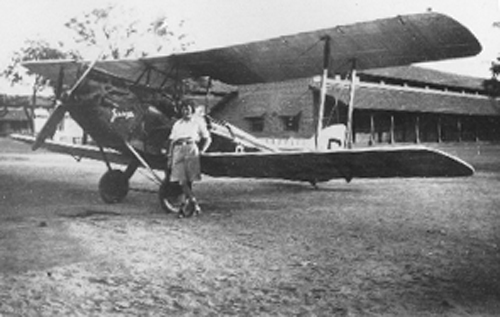 On 5th May 1930 Amy Johnson took off from an airfield in Croydon to little acclaim and landed in Darwin, Australia, nineteen days later on the 24th. Although this attempt failed to break Hinkler's record she still became the first woman to fly solo from England to Australia, which is a distance of 11,000 miles. Her maiden record-breaking attempt and the worldwide attention it brought only made her more determined to try and break other aviation boundaries. The publicity also brought her to the attention of King George V, who awarded her a CBE.
The following year she managed to achieve a record by flying to Moscow in 21 hours, which was the first time this had been achieved within one day. Not satisfied she carried on across Siberia to land in Tokyo ten days later, breaking the record for a flight between England and Japan in the process.
Co-Pilot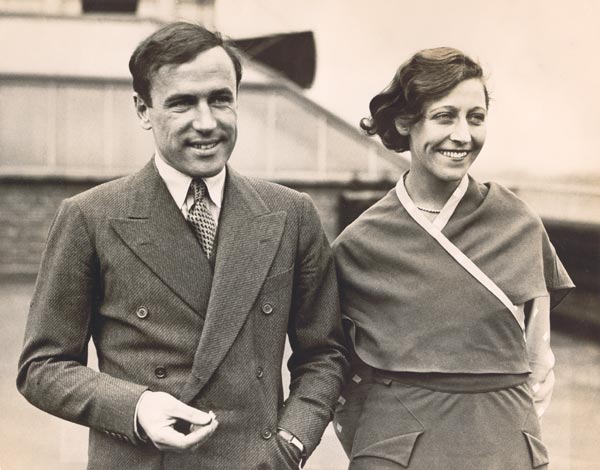 In 1932 she found a co-pilot for her life in the shape of fellow aviator, Jim Mollison, who allegedly proposed only eight hours after meeting her several thousand feet above the ground. Mollison himself was also an aviation record breaker and held the record for flying from England to South Africa. Together the two became known "The Flying Sweethearts," and Johnson's celebrity status was further established.
In the same year Johnson beat her husband's record by 10.5 hours from London to Cape Town. This was achieved in a new plane called "Desert Cloud."
Until 1938 the couple would undertake numerous flights together, although not all of them were as successful. Their attempts to fly to the USA from South Wales ended up with them crash-landing in Connecticut, both sustaining injuries, just 55 miles short of their destination due to a fuel shortage. Despite this the couple were given a tickertape reception in New York, one of only seventeen that decade.
They also started to fly competitively in some of the early air competitions, including the MacRobertson Air race of 1934. Unfortunately the duo had to retire halfway across the route from East Anglia to Melbourne over Northern India. Finally in May 1936 Amy Johnson retained her England to South Africa record, which was to be the last of her long distance flights.
Tragic Death & Legacy
The year 1938 did not get off to a good start when she overturned a glider at Wallsall aerodrome. In the same year she divorced her husband and the following year World War II broke out.
Amy Johnson put her aviation skills to use during the conflict and joined the Air Transport Auxiliary department of the RAF. Her job was to transport aircraft to army bases around the country. On 5th January 1941 during one of these routine missions Amy Johnson's plane crashed into the Thames Estuary. Her body was never found. The tragic circumstances of her death are still inconclusive. One theory suggests that it was due to bad weather conditions, while others argue that she was shot down after being mistaken for enemy aircraft. Either way she became the first person in the Auxiliary to die on duty.
Amy Johnson received many accolades and awards during her short life. Along with the celebrity status and recognition wherever her plane landed in the world, she was also a heroine and role model to women of her generation.
Along with her CBE in 1930 she was the President of the Woman's engineering society from 1935-37 and was one of England's first celebrities, opening up the first Butlins holiday Camp in Skegness and appearing in early radio broadcasts.
Her feats have been recognised ever since, both in her home city of Hull, Australia and London. The song, "Amy, Wonderful Amy," was performed by Harry Bidgood after her flight to Australia. In 1932 the Amy Johnson Cup of Courage" was inaugurated and awarded to a Hull schoolchild each year. A bust of her remains at her old school, which is now known as Kingston High School. On Prospect Street in Hull City Centre a statue was unveiled of her in flying gear in 1974. Many of her memorabilia, trophies and souvenirs are on display at Sewerby Hall in Bridlington. In 2016 a statue of her was unveiled in Herne Bay, not far from where her plane crashed in 1941.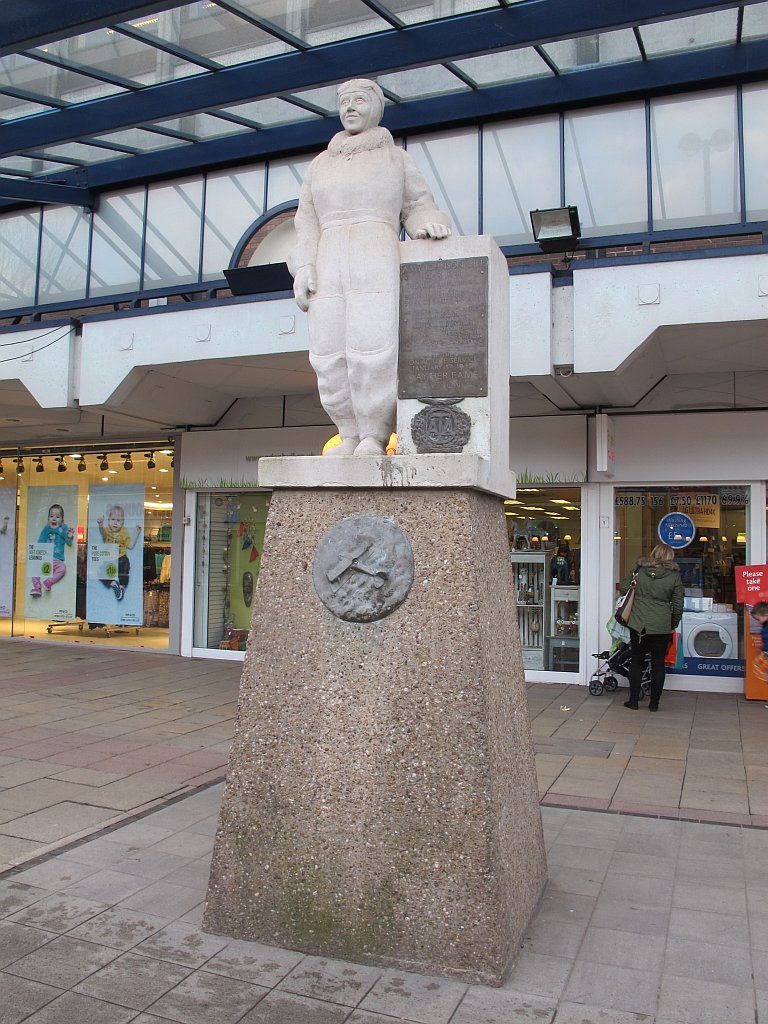 Since 2016 the Amy Johnson Inspiration Award has been given to promising female engineers at the Women's Engineering Society. The Amy Johnson Arts Trust is dedicated to keeping her memories alive with a series of cultural and art events. In 2020 the 90th anniversary of her flight to Australia was marked in Hull.
Amy Johnson was a pioneer in so many ways. Not only was she one of the few people to have set the pace for the future of aviation, but she was the first female to achieve such feats in a male-dominated world. Her courage, determination and tragic ending make her a true Yorkshire heroine.