"Tomorrow will be a good day"
Aged 99, Captain Tom Moore became Yorkshire's newest celebrity with his record-breaking fundraising efforts for the NHS during the 2020 corona virus pandemic. The war veteran also led a fascinating life before his sudden rise to fame.
Early Life and Military Service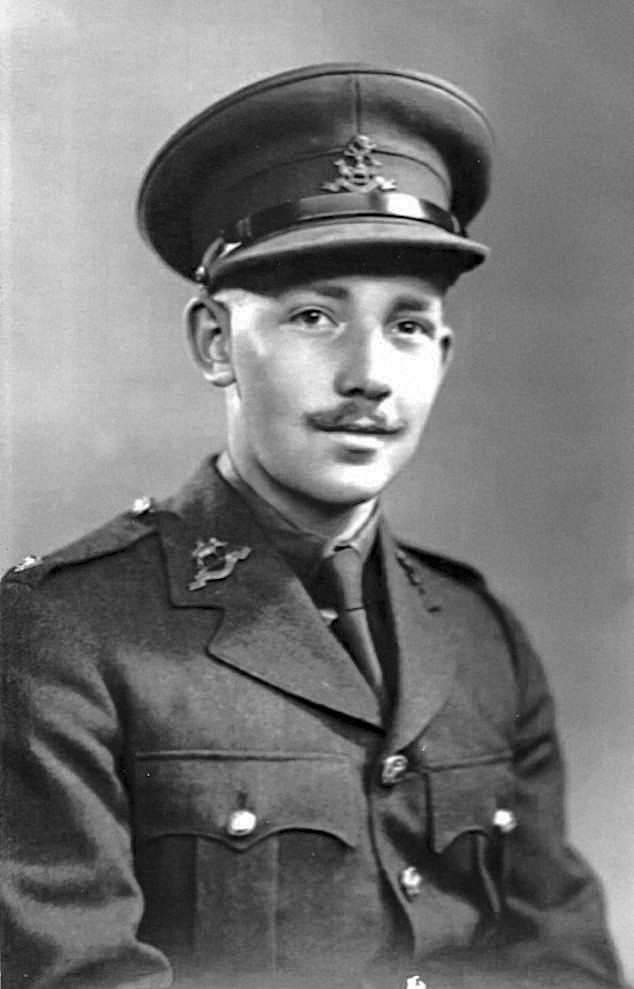 Captain Tom Moore was born on 30th April 1920 in Keighley. His father was a builder, while his mother was a head teacher. He was educated at Keighley Grammar School and then started as an apprentice in civil engineering. Tom developed a love of motorbikes and regularly rode them around the moorland near his home town. In 1940, Moore was conscripted into the army to serve in the Second World War with the 8th battalion Duke of Wellington's regiment. Eventually he served in Burma as part of the campaign against the Japanese as part of the Fourteenth Army (also known as the Forgotten Army)
Here he helped defeat the Japanese army at the battle of Admin Box in 1944, which helped turn the war in the East towards the Allied Forces. Moore put his motorbike riding skills on the rough terrain of the Pennines to great use in the jungles and hostile territory of Burma, where he was commissioned to seek the enemy lines by riding on a motorbike. It was dangerous work, but he was very successful at his job and earned him promotion to the rank of Captain. During his time on the Eastern front he met Dame Vera Lynn who was sent to entertain the troops. In February 1945 he returned to the UK to train as an instructor in the use of tanks, until 1946.
Life After Military Service
After the war, Moore left the army and competed in motorcycle racing and won some trophies. He also married his first wife, Billie, which proved to be an unhappy one and ended in divorce after nearly twenty years. During this time he returned to Yorkshire and found work as a labourer for a building firm, before moving onto a job as a travelling salesman for building materials. On one such visit to a client he met his second wife, Pamela and they married in 1968, which bore two daughters, Hannah and Lucy. Famously Sir Tom appeared on the Christmas edition of Blankety Blank in 1983, hosted by Terry Wogan. He also organised the reunion of the Duke of Wellington regiment for 64 years consecutively, which is an army record
Eventually Tom and Pamela retired to Spain on The Costa del Sol, but had to return to the UK after his wife became ill with a brain disease, which ended up with her being put in a care home for five years. Tom visited her every day until her death in 2006.
The widower, now aged 86 moved in with his daughter, Hannah, husband and two grandchildren in Bedfordshire, which 14 years later become a place of worldwide fame, visited by celebrities and the focus of a world struggling with lockdown and a worldwide pandemic.
Fundraising for The NHS
The beginning of how Captain Tom Moore came to prominence started in 2018 when he had a nasty fall in the kitchen of his family home. The consequences of the fall were severe and resulted in him spending two months in an NHS hospital with a shattered hip and broken ribs. The 98-year old, who until then still drove a car and led an active life nearly died when further complications caused his body to swell. He eventually made a recovery but the injuries left him housebound and he had to walk with a Zimmer frame. He also never forgot his time in hospital and the excellent care of which the NHS staff had given him.
The start of his phenomenal fundraising exploits came during a family barbeque during lockdown on April 5th 2020. As his son-in-law watched him walk with his frame up the drive an idea came into his mind. He challenged him to walk around his garden 100 times before his 100th birthday, which was 25 days away on 30th April. The lap was 25 metres in length and his aim was to do ten laps per day. The original fundraising target was £1000 for the NHS. His challenge was publicised on the 'Just Giving' social platform and he also made a brief appearance on the 12th April edition of Michael Ball's Sunday Programme on Radio 2.
His challenge soon captured the hearts of a nation, who had been thrust into lockdown and were only allowed out for one hour's exercise per day. The money started to pour in and by 10th April the original goal of £1000 had already been reached in just five days. By 16th April he had completed his 100th lap under the watch of the 1st battalion of the Yorkshire Regiment, which had been merged with the Duke of Wellington Regiment. The money kept on coming from across the world and at its height; he was raising £3 million per day.
By his 100th birthday on 30th April 2020, Moore had raised £30m and in total £38.9m in under four weeks, which earned him an entry in the Guinness Book of Records for the most amount of money raised in a short space of time. Throughout the world 1.5 million people donated money from 160 different countries.
On 24th April he also hit the top of the UK charts with his duet of 'You'll Never Walk Alone alongside Michael Ball and became the oldest ever person to have a Number 1 record in the UK.
Recognition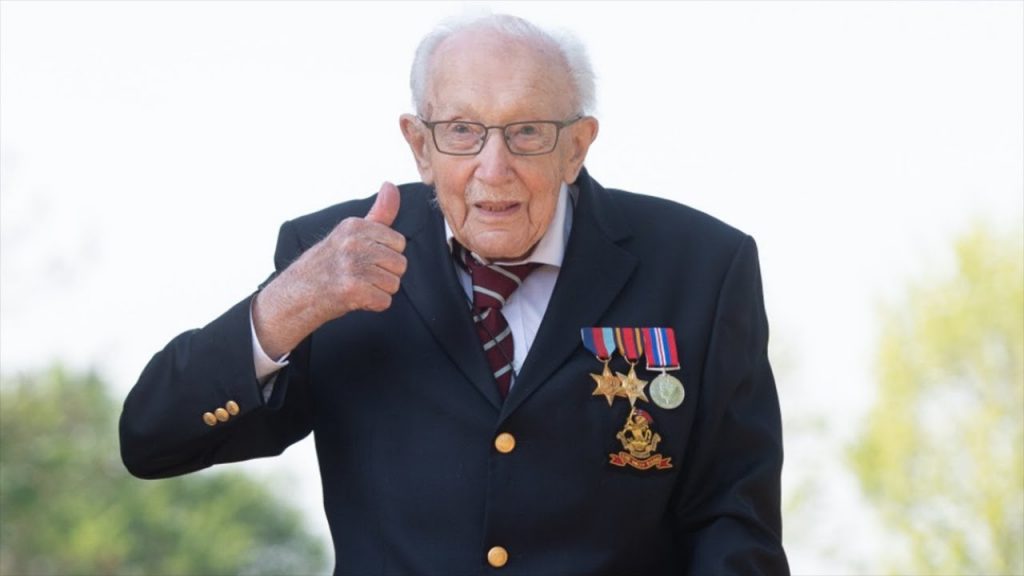 During his sudden rise to fame Captain Tom Moore received numerous accolades and awards for his fundraising work. On 23rd April he won a Pride of Britain Award, while on 30th April, his 100th birthday was made an honorary Colonel of the Army Foundation College in Harrogate. In the same town he also opened the Nightingale Hospital for Yorkshire and Humber. During this time he was given both the freedom of London and his home town of Keighley. Then in July 2020, Captain Tom Moore was given a knighthood by The Queen, who came out of lockdown specifically to meet and knight the war veteran outside in the quadrangle of Windsor Castle. Dame Vera Lynn, whom he had first met over 70 years ago during the war, sent him a letter for his 100th birthday, of which he received on the same day she died on 18th June 2020.There have also been several television documentaries and interviews about his life and charity work, including an appearance on Piers Morgan's life stories series in September 2020. In the same month he also launched his autobiography, entitled, 'Tomorrow Will
Further Charity Work & Death
Captain Tom was not satisfied with his NHS funding efforts and has since set up a foundation in his name which is to help people combat loneliness and supporting families who are facing bereavement. This has been inspired by his late wife, Pamela and from the days when he visited her in a home every day, where he noticed that some of the other residents never got one single visitor ever and was concerned about how lonely they most have been.
While 2020 has been a worrying and stressful time for many due to the consequences of the corona virus pandemic, Yorkshireman, Sir Captain Tom Moore offered a beacon of hope and light amidst the uncertainty of these unprecedented times.
It was reported on 31st January 2021 that in a cruel twist of fate, Captain Tom was being treated for symptoms of coronavirus in Bedford Hospital by the NHS staff he had raised so much money for.
On 2nd February 2021 Captain Sir Tom Moore sadly passed away in hospital from the deadly virus, surrounded by his family.