With tomorrow's historic vote in the House of Commons, it's crunch time for Brexit. Theresa May faces MP's who will have to decide to vote for or against her deal to leave the EU.
Having already delayed the original vote from late last year, Mrs May's back is against the wall. Knowing her deal would be defeated in Parliament, the Prime Minister decided to delay the original vote in December in order to seek out further reassurances from the European Parliament, but then immediately faced a vote of no confidence from her own MP's. Mrs May was able to keep her job but who can say for how long.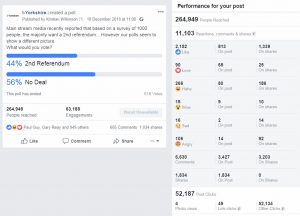 Mrs May must be hoping that her 2019 starts better than 2018 ended, but since the delayed vote she has struggled to make any ground in Europe. The biggest sticking point being the controversial Northern Ireland "backstop".
I-Yorkshire has a following of over 236,000 on Facebook and as always, we wanted to know what you think.  We recently asked you, if you had to choose between a "second referendum" or a "no deal", what would you go for.  Over 61,000 of you voted and with 56% of the vote it was a resounding "no deal".
I-Yorkshires' founder, Kristian Wilkinson said "We have run various Brexit related posts over the last two years, there is always a big response and the sentiment is always the same.  The majority want out of the EU by any means necessary.  I have actually seen a rise in "pro-Brexit" comments.  There have been so many different aspects of this entire situation that haven't gone to plan and lots of people are very annoyed.  If there was a second referendum I wouldn't like to speculate or even dare to think about what might happen"
The poll reached over 264,949 and amassed over 61,000 votes. There aren't many segments of data available to show what the sentiment of Yorkshire is, i-Yorkshire believe this to be the biggest local poll on the subject.
Tomorrow's vote will be another landmark moment in the UK's departure from the European Union.  I-Yorkshire will be waiting to see what happens next!