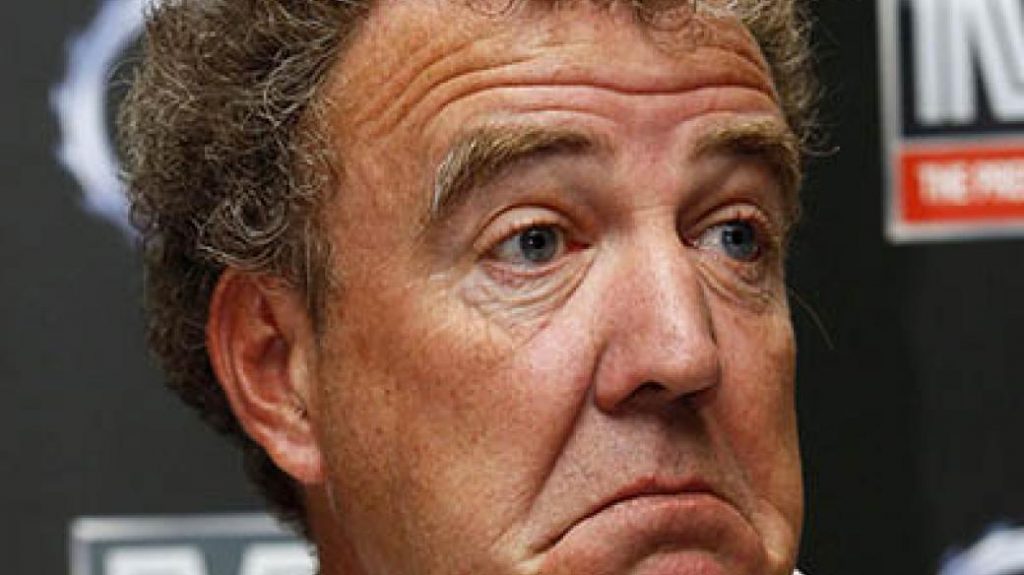 Controversial, outspoken and opinionated, Jeremy Clarkson's no-nonsense approach to broadcasting comes straight out of the mining towns of South Yorkshire. He is best known for his long stint as the co-presenter of Top Gear, which for a time was one of the most popular TV shows in the UK.
Early Life & Career
Jeremy Clarkson was born in Doncaster on April 11th 1960 and spent much of his early life helping his parents in their family tea cosy and toy business. Rebellious from a young age, a young Jeremy was expelled from Repton School in Derbyshire for "drinking, smoking and making a general nuisance of himself," in his own words.
He managed to forge a career in local journalism and wrote articles for local publications, such as the Rotherham Advertiser, Rochdale Observer and Lincolnshire Life amongst others. In 1984 he and another writer, Jonathan Gill set up the "Motoring Press Agency," which road-tested different cars for local papers and industry magazines. Their reviews of different motors increased in popularity and eventually their column became a regular feature in the industry magazine "Performance Car."
Their work caught the eye of the producers of the BBC Top Gear programme who were looking for a new presenter to revamp an ailing show. Clarkson seemed the obvious choice as somebody who was younger, brasher and willing to drive the show in a new direction.
Top Gear 1988-1998
Clarkson made his Top Gear debut in late 1988, with the task of modernising the show, whose previous presenters had included Angela Rippon and Noel Edmonds. He co-presented alongside Vicki Butler-Henderson, Quentin Wilson and Tiff Needell throughout the 1990s on BBC2. The show in those days was made up of several on-location features about motoring issues, such as transport congestion in London, motorways, maintenance and also some reviews on the latest models of cars. Top Gear quickly became the most popular TV show on BBC2 pulling in 5m viewers per Sunday night episode, mainly thanks to Clarkson's brusque and honest style of presenting.
During this period the show, his influence on the motoring industry heightened, although not always in a good way for some car manufacturers. In one episode he described a Vauxhall Vectra as a "box on wheels," which reportedly had a negative impact on sales.
The show however was to be driven off- track by the turn of the Millennium. Several of the show's leading presenters, including Needell and Butler Henderson had defected to the newly launched Channel 5 in order to make a rival car show called "5th Gear." Clarkson himself had decided to leave the show for numerous reasons, including filming the show at Pebble Mill studios in Birmingham. As he put it,
"Much as I liked Pebble Mill, I really did grow to hate, with unbridled passion, the city that surrounds it. Until you have driven through King's Heath on a wet Wednesday in February, you have not experienced true horror."
In truth Clarkson felt that by changing the show from a niche programme for car enthusiasts with viewing figures in the thousands, to the most watched show on BBC2 with around 6 million viewers, he had taken Top Gear as far as he could. He also had his own chat show in the pipeline.
 "Clarkson" ran for three series and 27 episodes from 1998-2000, roughly co-inciding with his Top Gear hiatus. He interviewed famous people and then also undertook a wacky activity with them such as making melon rocket for example. The show was axed in 2000 after a fall in ratings.
Revamp of Top Gear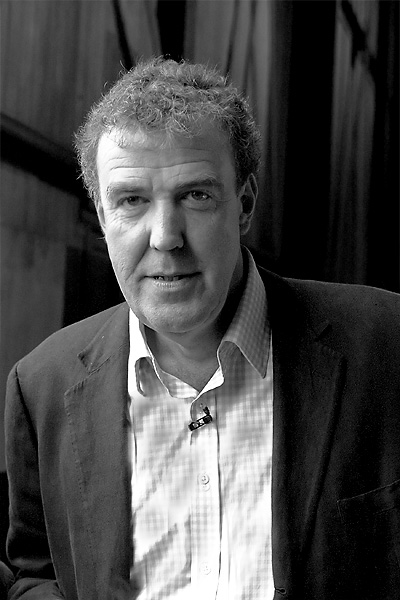 In Clarkson's absense, Top Gear was left in the hands of Quentin Wilson, Kate Humble and another bloke called James May. Unfortunately for them the Top Gear ratings had halved and by 2001 the axe hung over the show, when that year's series was cancelled. The fall in audience figures had partly been put down to Clarkson's departure and an old-fashioned format which had changed little since its first episode in 1977. Time and audience's needs had moved on and something needed to drastically change in order to save the show.
In 2002 Andy Wilman was appointed as Top Gear's new producer. He also happened to be an old school friend of Clarkson's and persuaded his old mucker to return as a co-presenter. They joined forces to totally revamp the format of Top Gear and save the show from the controller's axe. The two of them had also grown tired of the show's staid format and so they started with a blank sheet of paper to completely re-launch it.
They decided that Top Gear should be a studio-based show which revolved around three presenters, Clarkson, Richard Hammond and Jason Dawe. Two of them, Clarkson and Hammond would do the stunts, challenges and reviews, while Dawe would present bargains for cars. He left after one series and was replaced by a recalled James May. The famous triumverate were now complete, although there was still room for one more person.
Much to Clarkson's delight filming switched from Birmingham to Dunsfold Aerodrome in Surrey, which came complete with its own runway and race track. These extra facilities would provide an added dimension to the show.
It enabled the inclusion of a mysterious helmeted presenter known as "The Stig," who would speed test the cars around the studio's track during the new "Power laps," feature.  Other new segments of the show included the "Cool Wall," "The News," and the "Star in a Reasonably Priced Car," where a celebrity would be timed driving an everyday car around the studio's track. These were accompanied by more extreme races and challenges taken on by the show's presenters, usually with Clarkson in a very high powered car and the others using other forms of transport.
The Glory Years 2002-2015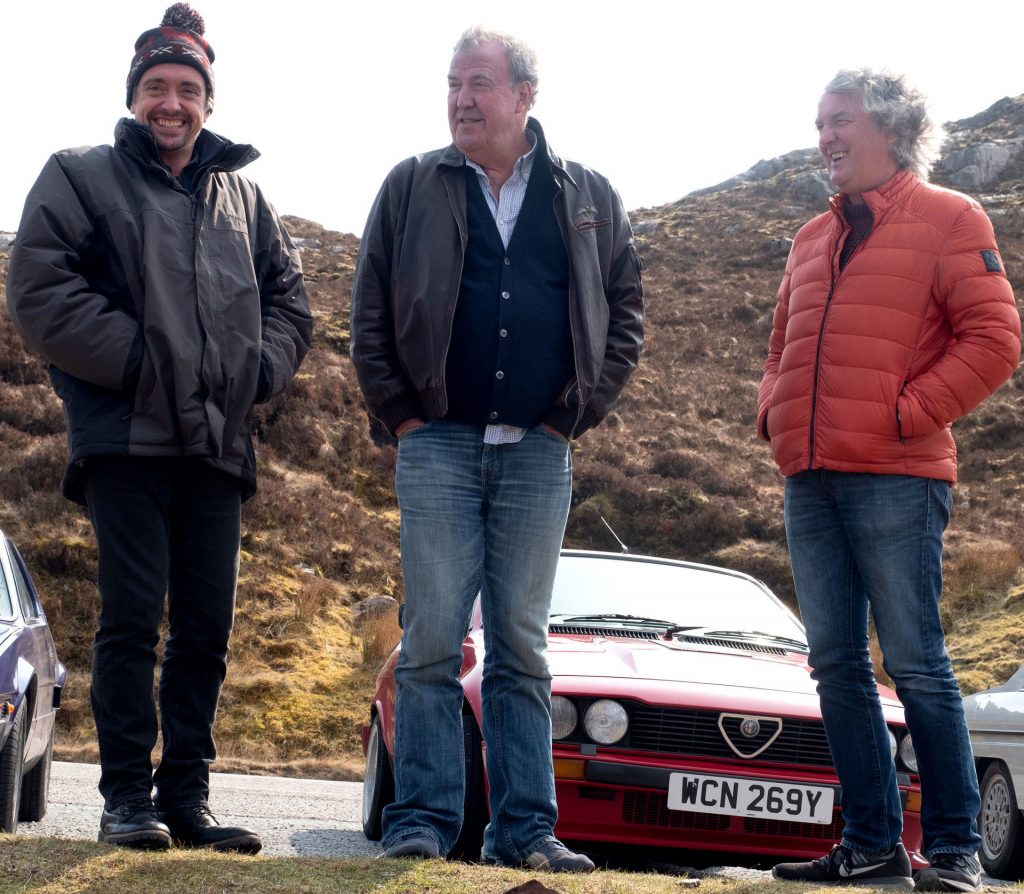 Throughout the 2000s the new Top Gear format proved to be a hit and once again became the most watched show on BBC2, with Clarkson very much at the forefront. Clarkson, May and Hammond built up their own personas on the show, with the larger than life Clarkson taking on the role of alpha male. The appeal of the "new" Top Gear was that you did not have to be "into" cars in order to enjoy it. A viewer could be entertained and understand the show without knowing the ins and outs of a 16 valve engine. Viewers could be thrilled to watch their favourite celebrity driving an everyday car fast (or slow in the case of the late Richard Whiteley) around the track, or wonder which presenter was going to make it across London first on their chosen method of transport. The hugely popular challenges feature of the show would often end up with the presenters ending up in all sorts of predicaments, including sinking in a lake in the make a boat out of a car task.
By the end of the decade "Top Gear," was watched by a total of 50 million people, 83% of the population and had international versions in several other countries including Australia, Russia, and the USA.
Alongside co-presenting Top Gear, Clarkson has maintained his writing roots and provides columns for several publications, including "The Sun," and Top gear magazine. He also became a prolific author, writing several popular books, including 'The World According to Clarkson, 'Driven to Distraction,' and 'Born to be Riled.'
Controversies and Sacking from the BBC
The massive popularity of "Top Gear" raised profiles of the three presenters, who had in some ways become more famous than the show itself. There were also several controversies, of which Jeremy Clarkson was often at the centre.
During his time on the revamped show he has landed himself in hot water after comments about lorry drivers "murdering prostitutes," using homophobic descriptions of cars, Nazi salutes, made comments which have upset Gordon Brown, the Mexican ambassador, mental health charities, the Welsh, Asians, the people of Alabama and the entire nation of Argentina.. His latest controversy over the use of a racist word in a rhyme led to action being taken by the BBC. These slurs led to the presenter being on a "final warning," from BBC chiefs meaning that if he "made one more offensive comment anytime anywhere he will be sacked." His derogatory remarks about the county of Norfolk even led to the formation of the "We Hate Jeremy Clarkson Club.
In March 2015, Clarkson was back in the headlines once again, when at a hotel in his native Yorkshire, he punched one of Top Gear's producers in a row over food. This led to him finally being sacked by the BBC and the show taken straight off the air in the middle of the series. The other two presenters, Richard Hammond and James May also left the show in support of their colleague.
Life After Top Gear – The Grand Tour
Almost immediately after his sacking from Top Gear by the BBC, Clarkson, Hammond and May were in talks over doing a new car based show to be shown by a different broadcaster. The results of this was 'The Grand Tour' which was based on Top Gear and to be screened on subscription service, Amazon Prime. The first episode was streamed on 18th November 2016.
The format included many of the much loved features of the re-incarnated Top Gear, including a celebrity doing a timed lap, motoring challenges, road trips and the general banter between the three presenters and friends.
At the time of writing 'The Grand Tour' is in it's fourth series, although these are now a series of feature length specials, involving the presenters on road trips and undergoing challenges, rather than the studio based format of the first three series. In 2020 filming in Russia and Madagascar had to be halted due to the coronavirus pandemic. 
Who Wants To Be A Millionnaire
In 2018 Jeremy Clarkson became the surprise choice to host the re-make of Who Wants To Be A Millionnaire. He has also presided over the new lifeline on the hit gameshow called "Ask The Host." This has been a mixture of success and near epic faliure. On a recent show in February 2021 he nearly misguided a contestant to the wrong answer when he got confused by the wording of a question. Clarkson has also come under fire from viewers who claim he is rude to contestants and should be replaced on the successful gameshow. His legions of fans claim that he is a great host of the show and has added some life into it with his sarcastic humour. It seems that whatever show he appears on, Jeremy Clarkson will always divide opinion.