Elizabeth Dawn was a popular Leeds actress, who was best known for her work across the Pennines on the cobbles of Coronation Street, where for many years she played Vera Duckworth in the popular soap opera.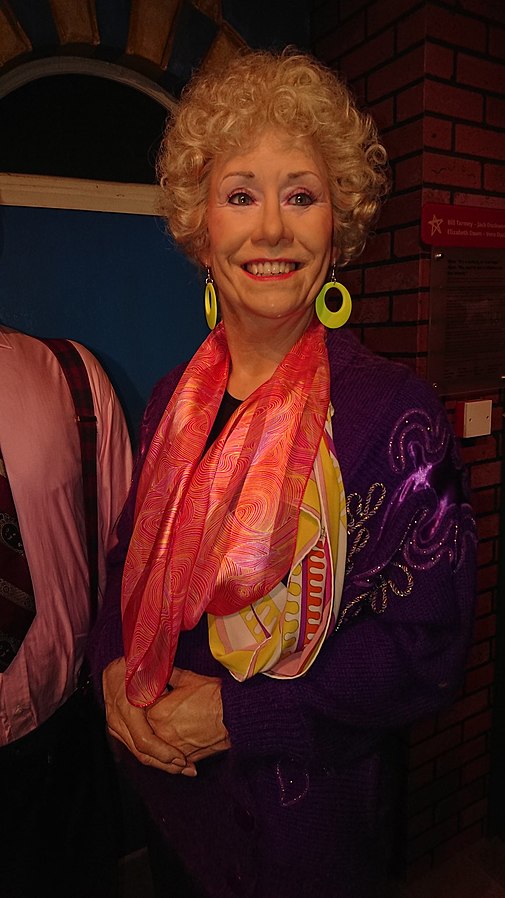 Early Life & Career
She was born, Sylvia Butterfield on November 8th 1939 in Leeds and attended the City's Girls School. After leaving education she took on a number of low grade jobs, including a factory girl and cinema usherette. By the age of twenty she had also been married, divorced and given birth to her son, Graham.
Her first forages into the entertainment world came as a nightclub singer in the 1960s and she also appeared in a series of small adverts. One of these was an appearance in a Cadbury's cookie commercial, which turned out to be her breakthrough. Soon after, as more offers came flooding in, the young Sylvia Butterfield decided to change her name to Elizabeth Dawn, which was named after her own daughter, Dawn Elizabeth, who she'd given birth to in March 1965, with her second husband, Donald Ibottson.
Dawn's first screen appearances came in the James Herriot, movie, "Who'd be a Vet," and Colin Welland's "Leeds United," which was a 1974 TV drama series set in her home city where she played a striker for a ladies football team.
Another production, "Crown Court," which was a television drama that ran from 1972-84 saw Liz Dawn make her studio debut. It was filmed at Granada Studios in Manchester and this move led her to join the cast of Coronation Street in a bit-part role as a factory girl, called Vera Duckworth. Her first appearance in the soap came in August 1974, but she was only contracted for two episodes. The producers saw some potential in her character and in 1976 Liz Dawn was offered a permanent role as Vera, who soon became a fixture on the cobbles.
The Coronation Street Years
The character of Vera Duckworth took on a life of its own. After her first job at Mark Brittain's mail order warehouse she started working for Mike Baldwin's clothing factory. In keeping with the show's portrayal of strong Northern women, her distinctive loud voice, laugh and personality soon made Vera Duckworth one of the most recognisable characters on the Street.
Her on-screen marriage to Jack Duckworth, played by Bill Tarmey was the most memorable highlight of her many years on Coronation Street. Their storylines, which included constant marital bickering, affairs and bringing up their wayward son, Terry became one of the most distinctive parts of their characters.
In the 1990s the couple took over running the Rovers Return and some of the scenes filmed during this time are some of the most memorable as their business venture gradually failed.
Departure from Coronation Street
The Duckworth's departure from Coronation Street came to a dramatic climax, especially for those who had watched their marriage through many a troubled year. Off-screen Liz Dawn was diagnosed with emphysema in 2004 and three years later at the actress' request, the character of Vera Duckworth was written out for good by the producers.
On 18th January 2008 viewers witnessed Vera's final appearance on Coronation Street as she died in her sleep, ending 34 years of this iconic Coronation Street character. Liz made a brief one-off appearance when she appeared as a ghost who came back to have one last dance with her beloved dying on-screen husband, Jack Duckworth in 2010.
Recognition & Twilight Years
In 1990 Liz Dawn, by now well established on the Street was the subject of Michael Aspel's "This is your Life," and ten years later became the Lady Mayoress of Leeds.
The actress has won several soap awards in recognition of her performances as Vera Duckworth, including the award for the "Best Onscreen Partnership," for her and Bill Tarmey in 2001. In 2008 she won the Lifetime achievement award after her on-screen death.
Liz Dawn's illness prompted her to take on charity work where she became the celebrity ambassador for the British Lung Foundation. She has also raised awareness of COPD, which is an umbrella charity for several diseases, associated with breathing and the dangers of heavy smoking. The Liz Dawn Breast Cancer Appeal has raised millions of pounds for research into the disease at St James' Hospital in Leeds.
Through her twilight years, Liz Dawn's television appearances were limited. In 2013 she suffered a heart attack and became wheelchair bound due to her illness. In January 2014 Dawn managed an appearance on ITV's Jeremy Kyle Show to talk about her career and health issues. On 25th September 2017, Liz Dawn sadly passed away at her home from COPD, a lung disease in Manchester. Her fueral took place at Salford Cathedral the following month.
Liz Dawn was one of the most recognisable faces in television soaps and one of the rare cases of Yorkshire folk enjoying the majority of their success across the Pennines.