Journalist and TV presenter Richard Whiteley was one of the most recognisable faces in Yorkshire and a regular on the telly as host of both Countdown and Calendar, which in Yorkshire earned him the nickname, 'Twice Nightly Whiteley."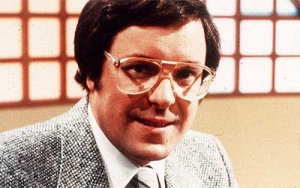 Richard Whiteley presenting Countdown
Early Life
Richard Whiteley was born on December 28th 1943 in wartime Baildon, the son of a local mill owner. He was privately educated at Giggleswick School and excelled in his exams, which earned him a place at Cambridge University. Here he achieved a third class degree, but had success in editing the college's magazine, "Varsity." This led him to gain work experience at the Yorkshire Evening Post on his return home during the holidays.
Richard Whiteley's first television appearance came when he was asked to talk about an innovative colour front cover that he was publishing for "Varsity" magazine. While on set he talked to a producer who told him that ITN were taking on trainees. He applied and joined them in 1965, where he read the football results and traffic news.
Yorkshire TV & Calendar
Back in Yorkshire, a new channel known as Yorkshire TV was being launched in Leeds. Whiteley jumped at the chance to return home and was taken on as part of the Calendar Team by Donald Baverstock. Blocking his way to the presenter's chair was the unlikely figure of controversial politician to be, Jonathan Aitken, who was the first front man of Calendar from 1968-70 – now there's a good quiz question..
Eventually Richard Whiteley worked his way up to be put in front of camera on the show in the mid-1970s. Not long after he was at the centre of one of the most famous TV bloopers in 1977 during an interview with a ferret owner on Calendar.
During the transmission he held the creature, which took rather a dislike to him and bit his finger for one and a half minutes. Cut! A nurse rushed on and asked the injured presenter to drop his trousers so she could give him a tetanus injection, off camera of course!
During his career Whiteley proved he could also do serious journalism too. Back in 1984 as a working reporter he was covering the Conservative Party Conference in Brighton when an IRA bomb exploded at the Grand Hotel, where Prime Minister Margaret Thatcher and members of the Government were staying. He was unhurt and in the hotel bar at the time, but was the first person to interview the Prime Minister after the incident. He continued to be the face of Calendar until 1995
Countdown
In 1982 a fourth terrestrial channel was born, otherwise known as "Channel 4."
The new producers of this alternative channel, had bought the rights to a little known French TV show called, "les chiffres et de lettres," (numbers and letters). The show had run in France since 1965 and was a popular daytime staple across the Channel. The producers decided that a UK version of this show would make a nice gentle opener to their schedules on launch day.
Therefore on the 2nd November 1982, Richard Whiteley was the first face to appear on the new channel and during his opening speech famously quipped, "As a countdown to a brand new channel ends, a brand new Countdown begins."
Countdown (as if I need to spell it out) is a words and numbers game where contestants have to choose nine letters made up of vowels and consonants. They have thirty seconds to make the longest word possible, which is verified by a resident lexicographer with a dictionary.
Whiteley also introduced us to C.E.C.I.L, which stood for Countdown's Electronic Calculator in Leeds," This was the random number generator which picked a number between 100 and 999. Contestants had to make this total using six chosen digits revealed on cards. At the start Countdown had several co- presenters, including Cathy Hynter, Beverley Isherwood and Carol Vorderman, who checked the calculations in the numbers round. From 1989, this was reduced to just Whiteley and Vorderman, who co-presented the show right up until the host's death in 2005.
Other Television Appearances
Apart from Countdown and Calendar, Richard Whiteley made other TV appearances. In 1995, a new chat show was screened called "The Richard Whiteley Show, which ran until 2001. This was followed by another in 1999 called "Richard Whiteley Unbriefed," where the host had to guess the person he was interviewing. Despite respectable ratings this was pulled after only one series.
In 1997, Richard Whiteley was the subject of Michael Aspel's big red book when he was surprised on the set of Emmerdale, while supposedly meeting a huge fan of Countdown on set.
In 1998 he became the Mayor of Wetwang after numerous jokes from him about the East Yorkshire village.
Five years later he appeared on the "Star in the Reasonably Priced Car," feature during an episode of Top Gear entertaining both viewers and a bemused Jeremy Clarkson by doing the slowest ever lap time of 2 minutes 6 seconds. The following year he was given an OBE in the Queen's honours list.
Sadly another year later, Richard Whiteley was in hospital battling pneumonia, an infection he would never recover from. He died on 26th June 2005, which for many marked the end of a television era.
Legacy
Posthumously Whiteley has left an indelible mark on local journalism and TV presenting. A tearful Carol Vorderman, someone who he worked with for twenty-five years, led the tributes and Countdown even ceased broadcasting for four months, both in honour of him and while another presenter was found. Contestants on the show now compete for the Richard Whiteley Memorial Trophy, while at Giggleswick School a theatre was built and named in his honour.
Richard Whiteley was known for his eccentricities, loud dress sense and excruciating puns. His wardrobe was full of loud ties, jackets and suits, which dazzled the millions of afternoon viewers he pulled in during Countdown's heyday. At the last count it is claimed that he had a total of 528 ties and 186 jackets, some of which were made for him by viewers.
The unmistakable face and character of Richard "twice nightly," Whiteley was a feature of afternoon and early evening television for many Yorkshire folk and people nationwide. Apart from telly testcard girl, Carole Hersee, Richard Whiteley holds the record for the most broadcasted face in British television history and is a truly unmistakable Yorkshire figure.